Worksman Cycles… The right choice for Bike Share Programs
No doubt, Bike Share is a hot topic these days, and rightfully so.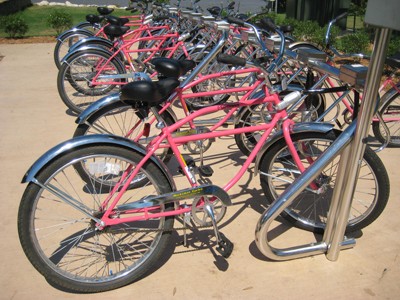 What is Bike Share?
Bike Sharing (also known as Community Bicycle Programs) as it exists today is an emerging form of environmentally friendly public transportation that incorporates information technology with shared bicycles which allows for an alternative form of one-way transit for residents and visitors of a region. Increased Mobility
Greater quality of human life and health found through exercise
Increased Mobility
Greater Productivity and use of time
Reach destinations poorly served by public transit
Reduced traffic congestion leading to quieter, safer and more livable streets
Reduced carbon emissions (Green House Gases)
Further reinforce community's position for leading in
innovation and quality of life
Creates employment opportunities
Provides transportation-based case study prospects
Increased amounts of disposable income for users
Increased public transit ridership (subways, trolleys,
buses, taxis, etc.)
Greater environmental awareness across community
Community Bicycle Programs are the perfect mode of transit to fill the gap for those trips too far to walk, and too short for other modes of public transit or automobiles.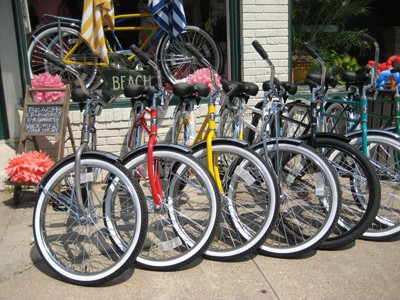 Why Worksman Cycles for A Bike Share Program?
Bike Share programs work best when the bicycles used are durable, safe, reliable and comfortable. American made Worksman Cycles are often the perfect choice. Think about it….bike share is a new concept to most, but something Worksman Industrial Grade Cycles have been used for almost a century. Large companies and campuses have always used Worksman Cycles as a means of employee movement. Fleets of bikes at companies such as Exxon Mobil, Boeing, Ford and others have been a mainstay of their transportation system. Also, if a bike share program goal is sustainability, purchasing products that are made on your own continent reduce the carbon footprint associated with importing. Finally, you want to build your bike share program on a company with a rich history. How many other bicycle companies are in business and family owned since 1898?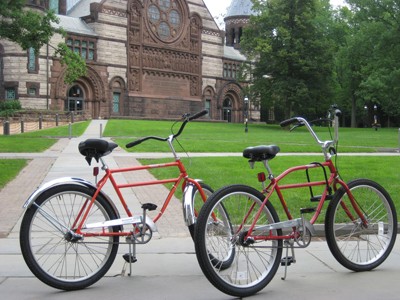 Worksman Industrial Bicycles and Tricycles are designed specifically for rugged commercial use. These bicycles are not toys, but rather durable, reliable cycles and an outstanding value. Whether your program has 10 bikes or 1000 bikes, is on the city streets, College or Corporate campuses, Worksman Cycles is the best source for your quality heavy duty bike needs.
Call us to discuss your fleet bike requirements M-F 9-5EST at 800 962 BIKE (2453). A bike share program is only as good as the bikes used!