New York Magazine described the Worksman Cruiser Bicycle as the "Hum-Vee" of bicycles. Simply put, the Worksman cruiser is unlike any other brand. Our bikes are designed for people who like their products hand-made, rugged, unique, distinctive, tough, classic and built right here in the USA. Worksman Cycles are proudly built in the USA using imported and domestic components in our new South Carolina factory. We've taken our world famous Worksman Industrial Bicycle and made it available to the public with lots of added features.
There are hundreds of configurations to choose from! Pictured below is Classic step through frame with fat Frank Creme Tires, leather seat and more.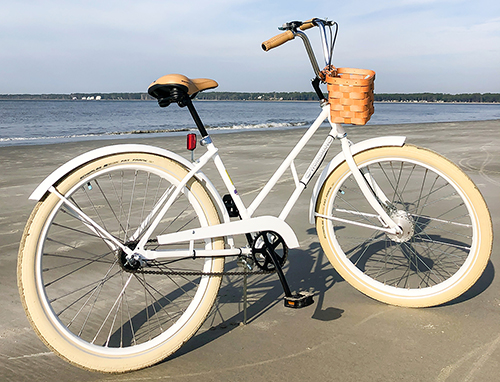 At Worksman, we believe cycling should be relaxing and fun! We keep our bicycle designs simple, evoking the look and feel of the bicycles we all rode around the neighborhood as children. You may not have a paper route anymore, but that doesn't mean you can't pedal around town on your world famous Classic American Cruiser! These throwback bikes are fully customizable. Everything from handlebars to seats, fenders to front and rear baskets. Make a Worksman cruiser your very own!b>Short on space? Try our line of Folding Bicycles. These unisex framed bikes have been a favorite of our customers for more than 50 years! Big on family fun? Pedal around town on a bicycle built for two! Be sure to check out our Tandem department.