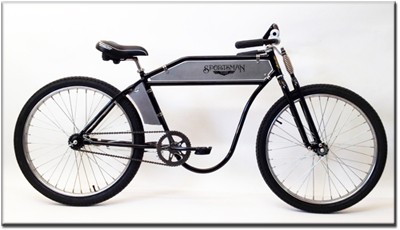 Take a walk on the wild side...
Answering the many requests for an Classic Board Track Style Bicycle,
Worksman Cycles has partnered with the most popular name in gas-powered motorized bicycles – Sportsman Flyer – to build the ultimate 'dropped down-tube' cruisers around. This bike is available in two base versions, but both are fully customizable to suit your needs. Scroll down to start building yours today.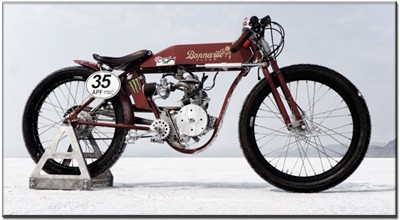 What is Board Track Racing?
Board track racing was a type of Motorsport popular in the United States during the 1910s and 1920s. Competition was conducted on circular or oval race courses with surfaces composed of wooden planks. With the onset of the Great Depression in the early 1930s, board track racing disappeared rapidly. However, several of its most notable aspects have continued to influence American Motorsports today. Worksman Cycles are proudly built in the USA using imported and domestic components in our new South Carolina factory.
The Frame Style is absolutely beautiful, and we have translated this into a "must have" bike for those who understand style, history and quality.