What makes Worksman the leader in cargo bikes, delivery cycles for business? The Industry's broadest selection combined with legendary "Worksman Tough" construction! For over 100 years, Worksman has been the choice for cargo bikes, delivery cycles by large fleets or single store operators.
1. Designed from the "ground up" for industrial/commercial use:
Recreational grade cycles will never stand-up to the rigors of constant use. So, every Worksman is built for business: 2x thick clincher style rims, 16 gauge hand-welded steel frames, 3/16" chains and sprockets and one-piece forged cranks are just some of the features that make Worksman the "Toughest Cycles on Earth."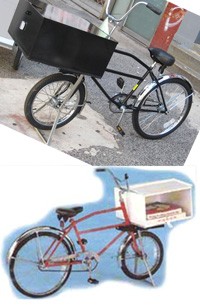 2. More Models: Worksman offers a full range of cycle solutions: Traditional and "Truck" style bicycles, rear-load and front-load tricycles, quadcycles and pushcarts. Whatever you deliver, Worksman has a cycles for you with payloads up to 600 lbs!
3. Worksman Cycles are proudly built in the USA using imported and domestic components in our new South Carolina factory.: Worksman Cycles have been built in America since 1898. We use traditional and costly construction techniques to make every cycle we manufacture live up to a "Worksman Tough" standards.
4. More Options and Accessories: Your business is unique, so why settle for "off the shelf" solutions. With Worksman you can choose from the industry's broadest selection of cargo handling, performance, safety, comfort and graphic choices.
5. Availability of Parts: A delivery cycle which is out of service awaiting parts means lost revenue and possibly lost customers. That's why Worksman keeps over 100,000 parts in inventory so we can get your cycle "back in the game" and making money for your business.
Related Reading about Cargo Bikes
Two and Three Wheel Cargo Bikes
The cargo bike is a popular method of transportation that allows for you to transport all variations of cargo via bicycle.
Frequent Questions about Cargo Bikes
American made cargo bikes are growing in popularity across U.S cities. These bikes are excellent methods of carrying goods where you need to go, at a fraction of the cost of an automobile.
Industrial Bicycles
These are classic industrial grade bicycles, unlike any other brand. If you are looking for American-made bicycles, rugged bicycles & cargo bikes, then look no further than Worksman.
Electric Cargo Bikes | Cargo Bikes Should Be Heavy Duty Bikes | Industrial Cycles | Types of Cargo Bikes | Riding Cargo Bikes Safely at Night | The Benefits of Using Adaptive Trike Bikes | Learning How to Safely Ride an Electric Bike or Trike | Cargo Bikes Blog