Whether you ride adult trikes, a cargo bike, or something in between, storage of your bicycle is incredibly essential. There are many places to store your bike when not in use. If you have a garage or shed, these are great spaces, but there are things to consider to ensure you're storing your trike or bike properly.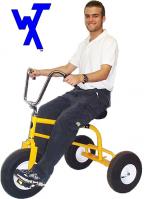 The first thing to consider when determining if your garage or shed is the right place is to make sure there is enough space. Some items, such as trikes for adults, will take up more space. You may need to reorganize the area before storing your tricycle for adults. You'll want to ensure easy access. Do not block the trike with any heavy objects.

Make sure your bike or trike is safely secured. Do not make it easy for thieves to break in and steal your valuables. Your storage space should not be visible from the main road and lock it at all times.
Cargo Bike
Assess the climate conditions of your storage space beforehand. An area that deals with drastic temperature changes is not a functional space for a tricycle or bicycle. Also, be sure to protect your bike from insects and other creatures. Cover the equipment at all times with a full bike cover. A cover is excellent for extended storage times or for traveling.