Also visit our Electric Trike Store for motorized versions of the products listed below.
Have you given up riding because you cannot find a bicycle or tricycle that you can safely and comfortably ride? Or would like to begin riding but cannot find cycle that suits your needs? Well, there's good news. Worksman has the cycle just for you!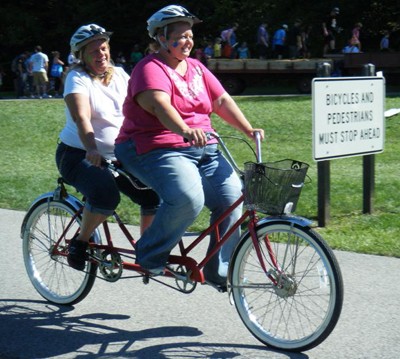 For over 100 years we have forged our reputation by making industrial-grade cycles that are used day-in, day-out under the harshest conditions. Many of these are used to transport heavy industrial loads up to 500 pounds and more! This experience allows us to build bicycles and tricycles for almost any size rider. Each and every day we are able to deliver cycles to folks who never thought they would get the opportunity to enjoy pedaling their own bike or trike.
Whether you want a heavy duty bicycle, or would prefer the "no-balance" option of an adult tricycle, we have the perfect cycle and options to get you rolling. Best of all, these bikes and trikes handle and feel like any recreational bike and will be just as fun to ride if the time comes that you do not require a plus-sized model. No other company has more experience in the plus-size cycle field. Join the thousands of plus-sized people who are riding once again – or for the first time – on a Worksman Cycle. Our specialists are always available to assist you with any questions you may have.Worksman Cycles are proudly built in the USA using imported and domestic components in our new South Carolina factory.
And now for a testimonial, just one of many such success stories that we receive:
"Thank you for letting me once again enjoy riding a bike. I am a big guy (6'1", 465 lbs.) and when I decided I wanted to ride a bike again, no bike shops or large stores could recommend a bike for me. They all told me to lose weight and come back when I was under 300 pounds! Then a friend who uses a Worksman every day at his job told me about you. I spoke to one of your representatives who was great and told me exactly what I needed. I now have my bike (a gorgeous gloss black cruiser) which I love. By the way, I should have stated that I WAS 465lbs. Two months out, I am now 430. When I get below 300 pounds, I am going to ride my bike to all the stores that couldn't help me and tell them they still can't! I am a Worksman rider for life!"