Pedal or Power. The choice is yours with the all new Worksman LIGHTNING Series of tricycles. The Lightning Series includes many of our most popular trikes outfitted with high quality front wheel (integrated front hub) Worksman E-Bike Kits. For those who want or need more range, hill climbing ability, or riding flexibility, the Worksman Lightning Series can give riders the freedom, function, fun and independence while riding in style.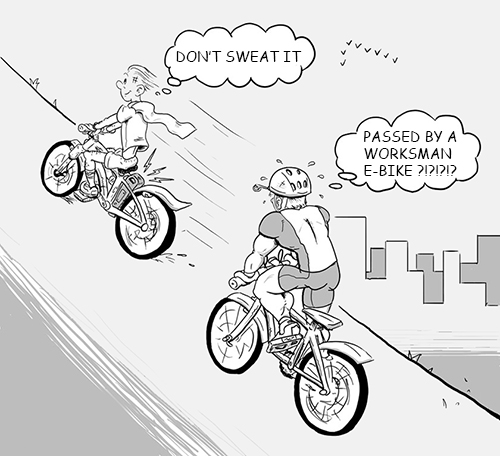 All Worksman Lightning Series trikes are built on 100% standard heavy duty Worksman vehicles, with the build quality our customers have come to expect from our brand name. We trust you will enjoy the flexibility offered by motorizing your fleet. Below you will find electrfied versions of our world famous Personal Activity Vehicle (PAV), Industrial Mover Trike, Side by Side Team Dual Trike, and Port-O-Trike folding trike.
Shop our full lineup below. At the bottom of the page you will find the E-Bike aftermarket kits available for sale directly. We hope you enjoy electrifying YOUR ride.
Related Reading: Electric Cargo Bikes | Benefits of Using an Electric Bike or Trike