Pedal or Power. The choice is yours with the all new Worksman LIGHTNING Series of tricycles.
We all have aspirations to get in shape. Did you know that electric trikes are one of the best ways to safely improve your health and fitness? Instead of high-impact activities like running, which can be difficult on your joints, riding an electric trike reduces the strain on your joints. Plus, if you accidentally ride too far, you can easily cruise back home using the throttle
The Lightning Series includes many of our most popular trikes outfitted with high quality front wheel (integrated front hub) Worksman E-Bike Kits. For those who want or need more range, hill climbing ability, or riding flexibility, the Worksman Lightning Series can give riders the freedom, function, fun and independence while riding in style.Worksman Cycles are proudly built in the USA using imported and domestic components in our new South Carolina factory.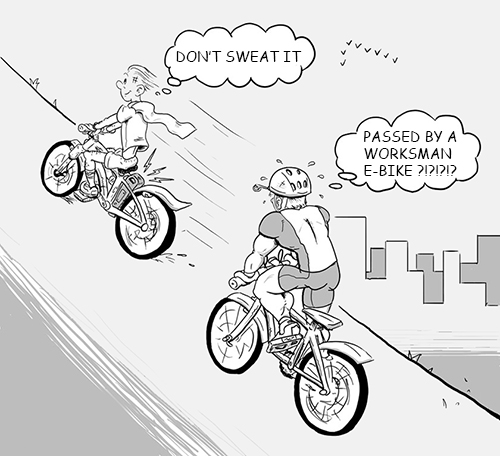 All Worksman Lightning Series trikes are built on 100% standard heavy duty Worksman vehicles, with the build quality our customers have come to expect from our brand name. We trust you will enjoy the flexibility offered by motorizing your fleet. Below you will find electrfied versions of our world famous Personal Activity Vehicle (PAV), Industrial Mover Trike, Side by Side Team Dual Trike, and Port-O-Trike folding trike.

E-BIKE Aftermarket Kit for 24" Tricycles(Eagle, Executive)
$1,199.00


Electric assist device converts 24" Front Wheel Worksman Tricycles to Electric version.
Kit includes fork with wheel installed, tire and tube and caliper brake with Kool Stop Large Pads to fit 24" Worksman Trikes, charger and 48V 10AH Lithium battery.Also includes special basket support to allow battery to be located beneath the basket.
See Product Detail tab for all specifications.