The Worksman Executive has been redesigned and price has been reduced! It is now joined by another new addition to the Worksman Business Cycle family - The Eagle! The Eagle and the Executive perfectly fill the need that some companies have for inexpensive, light-duty . In reality, most companies would be far better served by using Worksman Heavy Duty Industrial Tricycles such as the Mover and The Adaptable Series. However for budget minded customers, we offer the most complete selection of tricycles! Both the Eagle and the Executive feature two-piece, bolt-together, easy step through frames, making them ship quickly and economically via UPS. Both models include super-comfortable 13" extra wide seats with extra cushioning, and are available in durable, highly visible Safety Yellow, Safety Orange, or Electric Blue color choices. The Eagle and Executive can also be customized for individual cycle needs.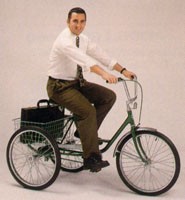 For
light-duty
service, the
Eagle
is the least expensive Worksman tricycle available. It is perfect for the employee on the go who needs to get from point A to point B. It features a 3/4" axle, 24" x 1.75" white-wall tires, 14 gauge (.080") spokes, and has a 225 pound weight capacity.
For medium-duty service, the new and improved Executive now features a two-piece, bolt-together frame. When employees need to transport light cargo, the Executive is the perfect choice. It features a 3/4" axle, 24" x 2.125" black-wall tires, 11 gauge (.120") spokes, and has a 300 pound weight capacity. Puncture resistant tubes are now standard on all Executive Trikes. (Optional on Eagle Tricycles)
Budgets sometimes justify the use of lighter-duty cycles, thus The Eagle and Executive were born. Frankly, our competitors seem satisfied taking recreational-grade trikes, painting them yellow and calling it "industrial". This has led to many disappointed customers who continually break their so-called industrial tricycles because they are not up to the job.
If you feel that you are pushing the weight capacities or recognize that the industrial environment is really tough, we still recommend the Worksman Mover and Adaptable series.