The WTX Wide Tracker Tricycle is a wonderfully simple, yet extremely effective vehicle. Unlike our other cycles which utilize a chain drive system to turn the wheels, the WTX Pedals are directly connected to the front wheel (like a kid's trike). This gives complete control as the pedals turn at all times when the cycle is in motion. In addition, this cycle features wheelbarrow style wheels for smooth comfort and incredible stability.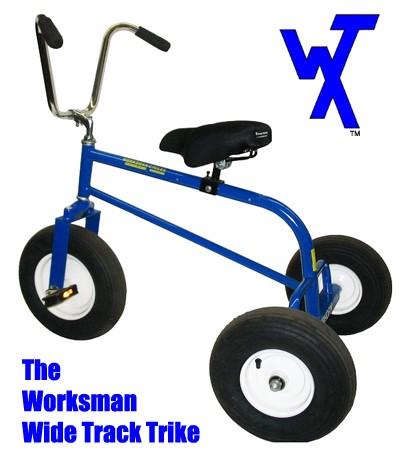 So who is this cycle for??? While this cycle is lots of fun for everyone,there are TWO PRIMARY USES:
1) Wacky Trikes is one way that the party rental industry refers to these vehicles, that is to say they are used for "party trikes" for events such as corporate meetings where they are "raced " (at low speeds of course) around a make shift track- different teams ride WTX trikes in a race which builds fun-filled competition.
2) However, it is really ideal for therapeutic use. Schools and hospitals find these to be ideal for motion training and physical therapy for special needs riders. Super Wide thickly padded Seat is standard.
The WTX is designed for controlled environments where short distances are covered and low speed is the order of the day. While WTX Frames and wheels are extremely heavy duty, we recommend a maximum rider weight of 250 lbs. Ideal for riders 10 and up.
Standard Color Electric Blue (shown here). Also available in red, black, green and yellow.
Scroll down to select your color of choice!