We believe everyone should enjoy the same opportunity to get out and ride! We are proud to offer safe, stable and stylish choices for riders of all levels of ability, providing riders a new form of mobility, exercise, and freedom to explore the community. As therapeutic tricycles, our diverse array of products help young riders improve their motor skills and endurance. In addition, riding is fun and offers the opportunity for inclusive play. For care givers, the use of a tricycle will provide the clinician an age-appropriate, safe, dynamic modality for improving balance, coordination, and strength. Trikes help to build self-confidence and allow riders a feeling of self-mobility often not gained from the regularly used assistive device. The multiple adjustments and accessories that these cycles offer makes them valuable additions to the medical therapy selection of therapeutic devices used to further develop the functional skills of the people they serve.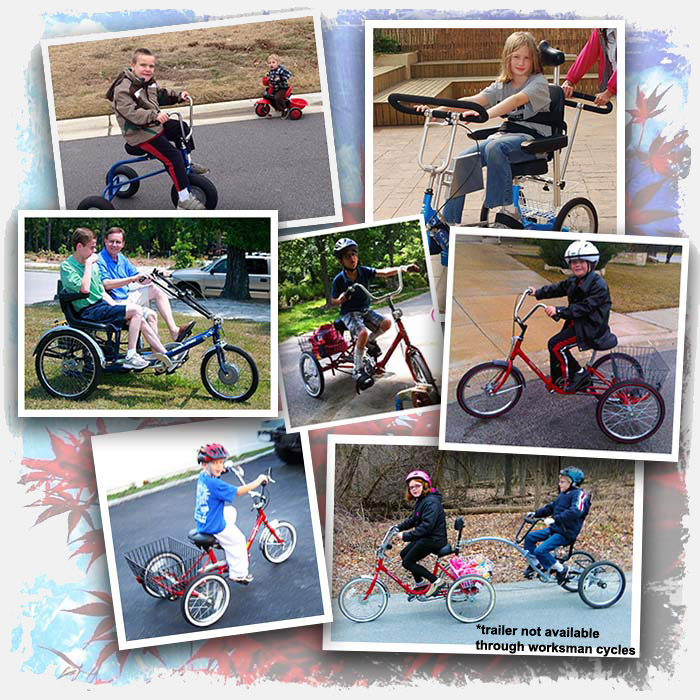 Please SCROLL DOWN the page to view our diverse product offerings. This is a long page with a great deal of photos and information available to you.
Worksman Cycles also offers our friends with special needs, and their families, one other great benefit: the gift of affordability. Unlike manufacturers who only make cycles for riders with special needs, Worksman refuses to charge outrageous prices simply because the cycles are "specialty" products. Worksman is America's largest and most respected Adult Tricycle manufacturer and many of our standard models are ideal for riders with special needs. For those with additional requirements, we offer many different versions and options. Our new line of tricycles for children with special needs adheres to the same philosophy of building great tricycles at fair prices Worksman Cycles are proudly built in the USA using imported and domestic components in our new South Carolina factory..
Product Specs and Helpful Hints! -- (Requires Adobe Acrobat Reader to view file)
Feel free to call us at 888-3-WHEELER so we may assist you.
How to Create a Letter of Medical Necessity for Worksman and Micah Adaptive Tricycles
---