Worksman Movers™ are the best industrial tricycles on earth. That's a strong claim to make, but the Mover can back it up. The Worksman Mover features a one-piece fully welded frame with a huge diameter reinforced 12-gauge mainframe beam. Other companies think bolt together frames are appropriate. We know they aren't! The chains are extra-thick (3/16"), and the crank housing and rear axle are reinforced.
The Mover makes other so-called industrial tricycle brands look and feel like toys. Mover rear axles are 7/8" machined solid steel linked to Shimano Nexus coaster brakes, creating an extremely durable drive train.
Our rims are 50% thicker than any other brand, with 11-gauge (.120) spokes.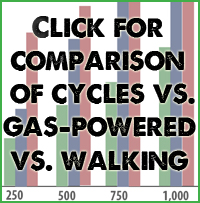 The rear platform is 22.5" x 22.5" heavy gauge steel. No other trike comes close. The time is now to save money, eliminate fuel, eliminate emissions, and get your staff in better shape! The Mover loves to work. Put it to work at YOUR facility today!
New and improved for 2013/14: Movers with 26" wheels come with black poly-carbonate front fenders STANDARD and optional poly-carbonate rear fenders. No dings, no dents, no rust.
Click here for a downloadable brochure of our signature product,
The Worksman Mover Tricycle
WORKSMAN INDUSTRIAL CYCLES s are proudly built in the USA using imported and domestic components in our new South Carolina factory.. NO FUEL! NO FUMES!