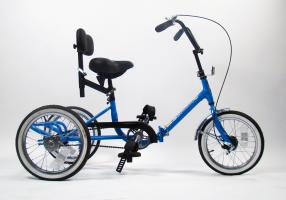 What is better than going for a bike ride on a beautiful day? Even when running errands, there is something fun about riding a bike or adult tricycle. It is so much fun that many people try and ride all year long: through the cold days of winter and the scorching days of summer. Protecting yourself is vital when riding in extreme weather conditions. After looking for an adult tricycle for sale, you'll need to know how to ride throughout summer's hottest days safely.
How can you stay safe riding an adult trike through the hottest days of summer?
First and foremost, you need to stay hydrated. You should continually force yourself to drink even if you don't feel thirsty. You do not have to chug a whole gallon, but you should be consistently sipping on water throughout your ride: maybe even taking a few small breaks to take a gulp or two. Heat stroke and dehydration are serious problems when riding during the summer, and both issues often come on strong and fast, meaning that by the time heat stroke sets in, you are just about ready to pass out. 
During the hot days of summer, you are bound to find more pedestrian traffic. It is important to stay extra vigilant at these times and to ride potentially even slower to give yourself better control over stopping short.
On extremely hot days, road conditions change, which can cause issues for riders. For instance, tarmac becomes sticky when the road hits temperatures of 122 degrees Fahrenheit or higher.
Wearing the right clothing is also a necessity. Heavy cotton materials absorb water, soaking the shirt with sweat. The shirt becomes heavy, and it gets hard to maneuver. Using lightweight, moisture-wicking material is a great option for staying a bit cooler while being pounded by the sun.
Try and chart a route that is shaded. This is often difficult, but with some ingenuity, time, and the help of Google Maps, you can more easily plot this course. Check out different bike routes and pick the ones that seem most shaded, which means you might end up riding through a few parks. It might take you longer to get where you're going, but you can just call it the scenic route.
Riding an adult tricycle, three wheeled bike, or traditional two-wheel bike can be dangerous over the summer if the right steps are not taken. If you are looking for an adult tricycle for sale, you should not hesitate to reach out to us and see our catalog. We make the world's best cargo cycles and adult tricycles for sale. We can customize rides to make them more reliable and look how you want. Stay safe and keep on riding.
Related Reading about Adult Tricycle