Whether you used to ride when you were younger, or you are just taking up cycling, purchasing an adult bike comes with many considerations. You do not want to buy blindly. You'll want to ensure you get a bike that is the right size for you and fits your needs. From cargo bikes to utility bikes and more, there are many types of bikes on the market to consider.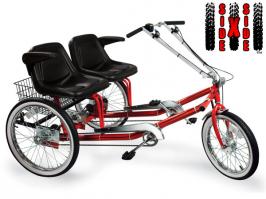 The first thing to consider when purchasing an adult bike is the riding you will do. Urban or hybrid bikes work well for those who want a way to get around town. If you are doing more vigorous riding, consider a mountain or road bike.
Secondly, you must make sure the bike fits you. It's important to remember that bikes are not one size fits all. You'll want to stand over the bike and straddle the frame. If you can stand comfortably with at least an inch of clearance, the bike is a good fit. Mountain bikes require two to four inches of clearance. If the shop allows, it's a great idea to take the bike for a quick spin to see how it feels.
Lastly, consider the price of your bicycle. Bikes greatly vary in price. Beginners do not need to splurge on state of the art, high-end bikes. Stick with something basic for beginners which should run you a few hundred dollars. Premium bikes are much more experience with a price tag into the thousands.
Cargo Bikes
If you're in the market for an adult bike, let us be your first call. We specialize in utility and cargo bicycles and can set you up with the right bike for your needs.
Related Reading: