Although many people learn to ride a bike when they are young that is not the case for everyone. New, adult riders can be easily overwhelmed when trying to learn because of bike options available to them. Buying a bike based on looks or cost might mean that a new rider is sacrificing benefits that can help them quickly learn to ride. Below, we will go over a small guide to help new riders pick the best possible bike for them to learn and grow.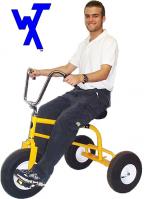 The most important factor to consider first is the type of riding you'll be doing. Are you looking to get into leisurely rides around your community, or are you more interested in long distance trips? Some riders want to ride bicycles in the woods or through parks, which means maybe a mountain bike is best. After you learn to ride, how do you primarily want to use the bike?
The second most important thing for any new rider is getting a bike that fits their height and size. To check the appropriate size of the bike, try standing over it (straddle the bicycle). There should be at least one inch of clearance between you and the bike when riding a road bike, but closer to three inches when riding a mountain bike. While seated on your bike, your arms should be bent when grabbing the handlebar.
Lastly, consult with a specialist who knows about bikes and riding styles. Our team can help walk you through the nuances of different bike types to help you get the right fit. Call for more information about our bikes. We also sell cargo bikes, utility bikes, and adult tricycles, which many new and old riders prefer over traditional two-wheeled bikes.
Related Reading: