There are so many great reasons to get a helmet and go for a bike ride. Whether that be for pleasure or business, there is nothing like riding a bike. Unfortunately, riding a two-wheeled bike is not always an option for all people who want to ride. This doesn't mean you can't ride; It only means you should be writing a different type of bike. Have you considered riding an adult tricycle or cargo bike?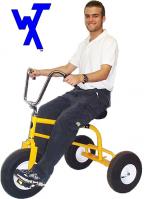 Both options allow for individuals to ride without the limitation or dangers associated with riding on two wheels. Benefits include:
Extra balance - by adding a third wheel to the back of a tricycle, a wider wheelbase is created. Three wheeled trikes are easy to balance when compared to a bicycle. On a tricycle, you can comfortably sit in a stationary position. It would be best if you were careful taking sharp turns at high-speeds because, like a truck, it is possible to tip. Slow down before approaching turns, and you will be just fine.
Storage - a third wheel on the back of the bike allows for a basket or other storage area. Cargo bikes are great for running errands and are even appropriate for many small, local businesses. Cargo bikes will enable you to avoid using gas-guzzling cars and vans, which is great for both the environment and your wallet.
Healthy lifestyle - riding a bike is a great exercise because it is both low impact and cardiovascular. When riding safely, you will not only have a great workout, but you will have a great time too. Cargo bikes allow you to keep moving, which is great for the body.
Cargo Bikes
Using Cargo Bikes in Urban Areas

Businesses located in urban areas greatly benefit from incorporating freight bicycles into their vehicle line. When it comes down to it, a cargo bike can lower monthly costs and increase business, all while protecting the environment.