Once you decide that you want a cargo bike, you now must start to think about what type of bike you will buy. Buyer's guides can help individuals to narrow down their options and to understand what kind of bikes and trikes fit their riding demands.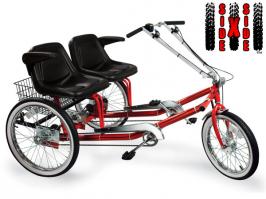 A commuter bicycle enables a person to replace their car to commute to and from work, but it doesn't work for much more. Cargo bikes allow people to carry anything from tools to gardening equipment. These bikes are workhorses that enable people and businesses to do so much more than a traditional bike or adult tricycle.
A utility bike has a traditional wheelbase but also has a reinforced frame that allows them to hold heavy loads. Frames have front baskets attached and sometimes back racks. They are more comfortable to ride than a larger cargo bike.
Cycle trucks have a similar body to a standard city bike but with a smaller front wheel that has a front rack affixed to the frame. Traditionally, the bike will have a box mount, but other mounting options exist.
Longtails are built with an extra long wheel in the back to accommodate a built-in-deck for carrying cargo. The standard variant of this bike comes with open-tip panniers that hold cargo on the sides of bikes. They also have hooks for webbing to secure cargo to the top.
Cargo Bike
We want to help you get on a bike or trike that suits your exact needs. You should give us a call today!
Related Reading