For those that can no longer ride a two-wheeled bike, your riding days are not over. You just need to consider the other options you have. There are those that conjure images of children's bikes when they hear the word three-wheeled bike, but that is only one type of trike. An adult tricycle allows adults and seniors to ride with ease, stability, and above all, comfort. Whether you like riding to stay in shape, to get around, or for sport, there is a specialized adult trike out there for you.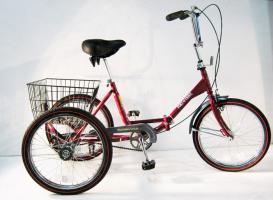 To reap the benefits of your new three-wheeled bike, you have to make sure you get the best bike for your riding needs. Below, we will go over several three-wheel options. The more you know, the easier it will be for you to buy the trike of your dreams.
Traditional Adult Tricycle: the conventional variant is easy to identify. It is built with a lowered frame to make getting on and off simple. Seats usually have back support. The bike is low enough to place both feet on the ground when stopped.
Cargo Bike: these bikes are great commuter bikes, especially for people that will carry items or gear with them. For those that go grocery shopping or to the store, this bike can make commuting much more convenient and cheaper than a car.
Folding Tricycle: if you live in a smaller home, a folding trike is perfect. Like folding bikes, the trike is broken down when home and easily reassembled when taken out again. They are lightweight and easy to store.
Cargo Bike