Often people think of tricycles being only for kids. However, this is not the case. More and more adults are turning to 3 wheeled bikes. An adult tricycle provided a stable and comfortable ride. There are many options to consider when purchasing an adult tricycle.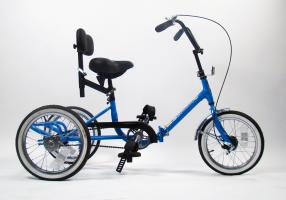 What are the different types of three wheeled bikes?
Rickshaw – Also known as pedicabs, rickshaws transport one or two people. Initially, they were pulled by foot, but bike components were eventually added. Rickshaw tricycles feature two back wheels and a steering wheel in the front.
Drift – Drift tricycles are ideal for descents on paved roads with steep gradients. They feature slick rear wheels that allow for countersteering around corners.
Electric – These tricycles are similar to conventional modern trikes, but they have the added bonus of electricity. The additional source of power is beneficial when riding uphill.
Children's – A children's trike is a smaller, simpler version of an adult tricycle. They're typically designed for children ages two to five. Most children's tricycles feature brakes or gears.
Conventional Modern Upright – This type of tricycle comes in two models: tadpole and delta. A delta model has two wheels in the back and one in the front. While a delta is more stable than a traditional bike, it does have poor dynamic lateral stability. A tadpole model is the opposite, with one wheel in the back and two in front. While this is a less popular model, it offers superior stability.
Related Reading about Adult Tricycle