Going to a bike shop looking for riding accessories can be overwhelming because of the number of options. What type of gear do you really need? When it comes to new riders, there are certain essential accessories that should be considered a necessary part of a bike or adult tricycle purchase. Even if you are getting cargo bikes, these accessories are necessary and worth the cash.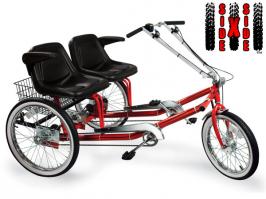 Get a lock for your bike. If you are cycling in a city, this cannot be more important. The National Bike Registry reports that on average 1.5 million bikes are stolen annually. Do not become a statistic and make sure that your bike or adult trike remain locked when you are not riding. Even if you are getting a quick cup of coffee, you should still lock your bike.
Depending on the type of trike or bike you acquire, you may not have ample amounts of storage space. A comfortable, large, and bright colored backpack makes a great riding accessory. It is a great place to keep your lock.
Do not ride without a helmet. You should also make sure you research and invest in a good one. Not all helmets are created equally. You can go to a Big-Box store and get one for cheap, but those are not the most protective. There is a reason some helmets cost more.
Having the right equipment while on a ride can make the difference between a great ride and a miserable one. Shop smart and be safe.
Related Reading about Cargo Bikes