It is not uncommon for us to hear the same questions about cargo bikes because most people are unaware of what they are. Simply put, they are comfortable and safe to ride, and they make the perfect ride for business and recreational use. Below, we will address some of the most commonly asked questions we hear.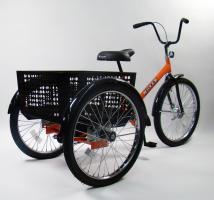 How difficult are cargo bikes to ride? If you can ride a traditional two-wheeled bicycle, riding a cargo bike should present no challenge. The steering mechanisms in these bikes are specifically designed to make riding as simple as possible. For new riders, do not get caught staring at the front wheel. Instead, look ahead at the road.
Is it harder to ride while carrying a load? Picking up and maintaining consistent speeds will require more energy, but riding the bike is not more difficult. The bike holds loads close to the ground, which prevents the bike from becoming too top-heavy.
How much weight can a bike or trike hold? The answer depends on the specific cargo bike being built, but many can hold up to 330 Lbs./150 Kg— This is broken up between rider and load.
Can a cargo bike climb a hill? The simple answer is yes. We build our bikes with 8-speed gears, which helps our riders get up steep hills.
Are two-wheeled cargo bikes stable like a cargo tricycle? The stability of a cargo trike at slow speeds and while stopped is unmatched. When riding, there is little difference between balancing on a trike or bike.
Cargo Bikes
For more information on cargo bikes and custom trikes, give us a call.
Related Reading: