More and more businesses are using cargo bikes to make deliveries, move employees, and pick up materials. The cost of running a bike is much less than that of a van or truck. Although a cargo bicycle is human-powered, they can get through the city quicker than a van because a van is subject to traffic and congestion. Many different businesses buy and use these bikes because of all the benefits they offer owners.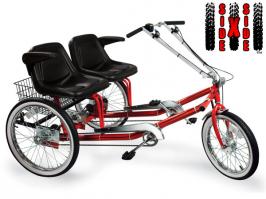 Certain Ikea furniture stores allow customers to rent cargo bikes for a nominal fee. They recognize that not all their shoppers have cars or vans, so they offer cargo bikes to make transporting new items more accessible and more affordable. They want to provide customers with a low-carbon delivery method. It is common for other furniture stores in cities to deliver products using this method.
Parcel delivery services are starting to use these bikes as well because it allows them to carry many letters and packages, while also beating traffic and using no gas. We build cargo bikes that make deliveries easy and efficient.
Grocery stores like cargo bikes because it allows them to make food deliveries to their local communities. Smaller stores use cargo bikes with large baskets in the front, but larger stores (making bigger deliveries) will use tricycles that have a cargo space between the back two wheels.
Cargo Bikes
Can your business benefit from using cargo bicycles? If you are tired of filling up a van with gas and sitting in traffic, cargo bikes might be right for you. For more information on our cargo bikes and what they can move, you should give our team a call.
Related Reading: