Just because you cannot ride a traditional two-wheel bike does not mean that you cannot ride. Adult tricycles offer the same benefits as a traditional bicycle but are easier to ride by a larger demographic of people. Although acquiring a trike is smart for many riders, they may not be used to this type of bike, which can cause some initial issues. For instance, adult tricycles usually have a lower center of gravity and a wider wheelbase, which is different from a bicycle. Learning some tricks and tips can help make riding a three-wheel bike safe and fun.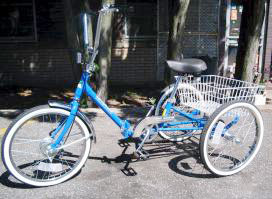 When mounting or dismounting the tricycle, you should keep your hands firmly grasping the brakes. Before getting on, grab both breaks. Do not let go of them until you are seated and have one foot on the ground to prevent the bike from moving.
Adult Tricycle
When shopping for adult tricycles, riders must decide between buying a trike with an upright seat or a recumbent seat. Each adds its benefits, and both require different riding techniques. A recumbent trike is great for those that have knee pain, but they do require riders to learn a new style of riding.
Turning on a trike is different than on a bike. Because of the tricycles broader wheelbase, the trike will take wider turns. Too often, a rider will turn too sharp while leaning into the turn and one wheel will lift off the ground. When turning on a bike a person usually leans, but when they do that on a trike, they are in jeopardy of tipping.
Cargo Bikes
When you know how to ride safely, you will have a great time. We carry a full line of cargo bikes and adult tricycles.
Related Reading: