Three-wheeled bikes provide a riding alternative to those who can no longer safely ride a traditional bicycle. Do not say your bike riding days are over yet. We make and sell a wide range of tricycles for adults that meet all riding needs. When shopping, you will notice that you have many options to consider when making a purchase.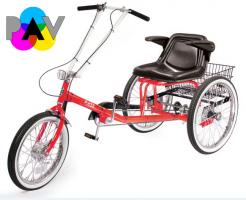 There are four main types of adult tricycles for sale. Knowing the difference between these types will help you to narrow down your choice.
1. Traditional adult tricycles are very easy to identify. It has a lowered frame that makes stepping on the bike easy. You do not have to worry about getting on or off this trike. The seat will usually have a back for support, and handles that easily adjustable. Reaching to the handle bars is easy and comfortable. Seats are low to the ground, which means you can sit comfortably with your feet on the ground.
2. Electric tricycles are great for those who live in an area with hills. They are also great for those who carry heavy loads. This type of trike looks like a traditional one, although the electric trike has no back support. When riding one of these tricycles, it is easy to shift back and forth from human to electric power.
3. Folding adult tricycles are designed for those living in congested cities. It is hard to keep a traditional tricycle in a small shed or apartment. Folding trikes fold up small and are light to carry.
4. Chopper type tricycles are sleeker and more casual than the above mentioned trikes. These bikes tend to be very stylish but can be a little harder to ride than a traditional trike.
Adult Tricycle
We carry the right adult tricycle for you.
Related Reading: