If you've been debating between getting a three wheeled bike or a cargo bike, you may have a few questions. That is completely understandable. It can be confusing to understand what makes an adult tricycle different from its two-wheeled counterparts. You'll have many questions before you're able to decide which bike is best for your needs.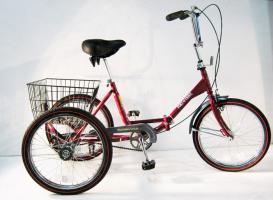 Let's go over the more common questions concerning cargo and adult trikes.
How safe are they? These types of bikes are incredibly safe for you, your children, and even your pets. They come with seat belts, and the rigid trunk is meant to protect against bad weather. However, it's always recommended to follow common riding safety procedures still. Be conscious of your surroundings and wear a helmet.
Are they comfortable? An adult tricycle offers a more comfortable riding position than conventional bikes. They are even designed to make riding more comfortable for passengers. Additional accessories, such as waterproof covers and cushions, can help to make for an even more comfortable ride.
How difficult are they to ride? Three wheeled cargo bikes take a bit of getting used to before most riders get the hang of it. They are wider than conventional bikes, so less maneuverable, but once you're used to them, they are easy to ride. It's also a lot easier to stop at red lights as you do not need to put your foot down to remain stable.
Cargo Bike
Contact us in your search for a new three wheeled bike. We'll answer any questions you may have and find you the best bike for your needs.
Related Reading about Cargo Bikes
What is the Cost of a Cargo Bike

Is a cargo bike worth the money? Many individuals and businesses want to use cargo bikes but do not because they do not like the cost. A cargo bike costs more than a traditional bicycle, but the added cost offers riders many benefits and characteristics not achieved with a traditional bike.