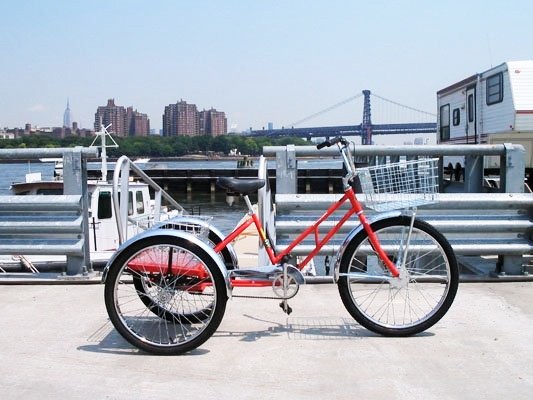 Considering the bad news that is being reported, as a result of global warming, more and more companies are trying to find different ways to go green. There has been a big push in the United States for companies to go green, and many a following. This usually includes the installation of solar panels, energy efficient light bulbs, and even adding actual green life (plants, grass, shrubs, trees) to your buildings roof. What will help people become truly green is to start thinking outside the box. More and more, people need to think of non-traditional ways of doing green business.
At Worksman Cycles we have taken steps to become greener. We have recently added 72 solar panels to our roof, and all our light fixtures have been outfitted to use low energy-bulbs. We also build all our own bikes in our factory in NYC. Our American made bicycles doesn't have to get shipped from Europe or Asia, meaning a lot less fuel is used to get them to you. Building American made bicycles helps us keep costs down as well as reducing our footprint.
Part of our mission to make the world just a little bit greener is to look at what we are doing, but the other side is to help other people and companies do the same. Using a bicycle is a great way to not burn up fossil or other non-renewable resources. An employer cannot force employees to ride bikes to work, but an employer can make workers ride bikes at work. Our factory is rather large, and to walk across it could be time consuming (if you have to walk back and fourth constantly). We, and a lot of other companies (such as Ford and Boeing), use bikes instead of electric or gas carts or scooters.
Very often you will find factories that use gas or electric systems rather than human power. Another way people use our bikes to be a bit more environmentally friendly is by using our bikes to make deliveries or move carts. Our custom-built cargo bikes can transport a lot of gear in the baskets, or it can be set up with a hitch to tow a hot dog cart. Using our cargo bikes will help your company take steps towards reducing its carbon footprint.
Cargo Bikes
Adding solar panels to your businesses roof is a good first step at going green, but it is only a first step. Many steps need to be taken, and many things need to be considered. Have you considered getting American made bicycles?
Related Reading