As cold and wet winter days approach, many of us are faced with the choice of continuing to ride or putting away our cycles. What do you do at the first signs of snowflakes? Below, we want to go over some tips for safe riding over the winter.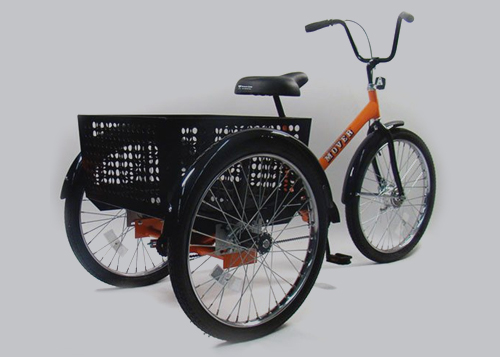 The most important thing you need to do while riding this winter is to stay warm and comfortable. Riding a bike or adult tricycle requires split-second decision-making. A person is not likely to think and respond quickly when they are cold. Consider going with a multi-layered clothing system that is lightweight. You want to stay warm, but you cannot sacrifice the ability to control your body fully.
Wash your cargo bike after every ride. Your bike will get covered in snow, slush, dirty water, and road salt during the winter months. Leaving this dirt and debris triggers corrosion and damage. If you take the time to clean and wipe down your bicycle, it will run all winter long.
When riding during the winter, make sure you have a fender installed. This tool prevents ice, snow, and slush from spraying your bike and the people and things around you. A fender makes riding during the winter a much safer experience.
Days are short during the winter months, so you cannot always rely on drivers to see you. Sharing the road is the new trend in most cities, but riders need to do their fair share to ensure they can be seen. Install front and rear lights, and you should also add reflective tape to the sides of your adult tricycle. You should also get bright and reflective outer clothing to wear.
Cargo Bikes