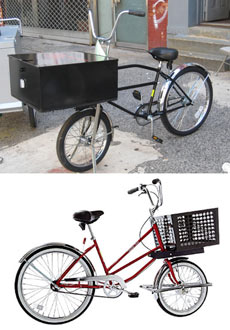 In Major Cities around the globe, cargo bikes are becoming the preferred method of delivery for lightweight packages and goods. Although this method of biking is extremely efficient, there are operational hazards that come along with the activity. Riding at night is a dangerous action, but if you follow some simple guidelines you can be assured that delivery of your parcel will on time and free of harm.
The first rule of biking at night is simple: The more lights, the better. Every cargo bike should be illuminated with half a dozen reflectors and at least 3 to 4 lights. You want to be as visible as possible, and to make automobilist aware that you are sharing the road. There is an abundance of affordable bike gear that will make you shine in the dark, and make you as visible as possible. Flashing lights are mandated by many states, and it is also required that the rider be equipped with reflective gear as well.
Cargo Bikes
In California, all cargo bike riders are required to have a red, flashing light on the tail of their bike, so that motorists are well aware of their presence on the road. The best way to deliver a package is to do it safely, and the most effective way to mitigate danger while biking at night is to illuminate your cargo bike with lights.
Related Reading
Cargo bikes can handle over 100 pounds

Cargo bikes can handle over 100 pounds, without any problems. For bikes that pull a large amount of cargo, operators utilize the help of electric motors to get extra power for steep hills with limited malaise.