Riding an adult tricycle or three-wheeled cargo bike is a great alternative to riding a traditional bicycle. For many, riding a two-wheeled bike is not a safe option, but adding a third-wheel becomes something fun, safe, and manageable. Just because riding an adult tricycle is easier than a bike does not mean that you shouldn't take any precautions before getting behind the wheel.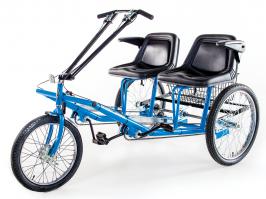 How can you stay safe while riding your cargo bike or adult tricycle?
As you would with a bicycle, you should always wear a helmet. There is never a time you shouldn't protect your skull! Many think that an added third wheel completely prevents any falls, but that is not true. What would happen if someone crashed into you, or you crashed into something else? Always ride smart, which means wearing an appropriate helmet.
Avoid taking fast turns. Just as you wouldn't take a turn in a truck at full-speed, the same applies to an adult tricycle. The wide wheelbase makes it easier for these vehicles to tip when taking fast turns. Always slow down as you approach turns.
The widest point of a tricycle is the back, so you need to make sure you have enough space to clear tight turns and areas. It damages your bike when you crash because the back wheels do not fit through a space. Be mindful of how wide the back of your cargo bike is, or else you can crash and hurt yourself.
Cargo Bike
Who is Using Cargo Bikes

From recreational vehicles to daily commuting and workplace tools, electric cargo bikes are both practical and affordable. Below, we want to highlight a few industries that can benefit from cargo bikes and motorized tricycles for adults.