Tricycles aren't just for children. Adult tricycles have become popular in recent years. They are a great way to get around and get exercise. They are an excellent choice for those who require more balance than a two-wheeled bicycle provides. If you've recently purchased an adult tricycle, there are a few safety musts to know.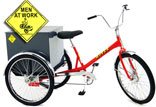 Always wear a helmet. While falling over on a tricycle is not likely, it does not mean it's impossible. You also may run into something, or something may run into you. Always wear a helmet to ensure your safety.
There is no need to speed. Tricycles are not built to go too fast. Never overdo it as they are unable to navigate tight turns at high speeds. Take in the outdoors when riding on your tricycle and enjoy the leisurely pace.
Be conscious of what is behind you. It's easy to forget how wide the back of a tricycle is since it's behind you. Be careful when squeezing through tight areas to avoid getting stuck.
Follow the laws of the road. Each city and town has specific tricycle laws riders must follow. Make sure you're aware of these rules. The rules are set for your safety and the safety of those around you.
Create a checklist before heading out. Be sure to check your equipment before heading out for a ride. Ensure you have all your safety equipment, that the seat is securely fastened, and your tires are inflated.
Whether you're looking for an adult tricycle or cargo bicycle, let us be your first call.
Related Reading Adult Tricycle
Tips for Being Seen While Riding a Cargo Bike and Adult Trike

When it comes to riding adult trikes or bikes, and even cargo bikes, safety is the main priority. Make sure you wear a helmet and know the rules of the road before heading out. It's essential to ensure that you're seen by others while on your bike.