There is something special about bike rides, whether they are through a city, in the woods, or on a boardwalk. Unfortunately, not all people can comfortably ride traditional bikes. At Worksman Cycles, we believe that all people should be able to have the experience of riding a bike. We sell a full line of adaptive bicycles, and we can work on an individual basis to create custom cycles. These types of cycles are recreational, but they are often medically necessary. The benefits of adaptive tricycles include: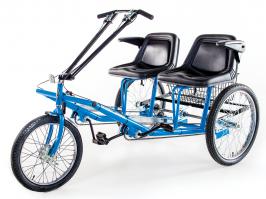 Teaching balancing skills
Encouraging social interactions with peers and neighbors
Offering users reciprocal leg motions
Lower body strengthening
Developing visual and spatial perception
Toolless adjustments for comfortable riding
Easily adding on accessories, such as rear steering bars (to meet the needs of the rider)
Giving riders self-confidence
We want to help individuals who cannot ride traditional bikes to get out and move around. Work with our team to get the best specialty needs bike for you. Some of the bikes we make include:
Handcycles: these tricycles are powered by hand, and do not require leg power.
Family cycle: these bikes have two seats, either side by side or one in front of the other.
Rear steering bike: this bike is for special needs riders who need help from someone pushing from behind.
Cargo Bikes
For more information on our different adaptive bikes, or our cargo bikes, please give us a call. We sell a wide variety of trike bikes.
Relate Reading