If you're looking to buy a cargo bicycle, it can become overwhelming. There are many different options out there. The average consumer doesn't know all the ins and outs of cargo bikes. Luckily, we are here to help. Below let's go over the most popular cargo bikes around.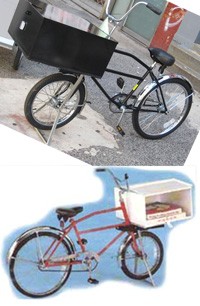 Cargo Tricycles (AKA Cycle Rickshaws) - These types of bikes are widely used in Asia and Africa and are gaining popularity in North America. They feature a box or seat between the two wheels.
Electric Cargo Bikes - There has been a recent boom in e-bikes. Electric cargo bikes feature pedal-assist electric motors. While these cargo bikes are pricier than their counterparts, they're an excellent investment for those traveling long distances.
Utility Bikes - These cargo bikes have a traditional body but offer reinforced frames. The frames allow riders to carry heavier loads than conventional bikes while still being agile and easy to ride. Often they come with front baskets or back racks, with some utility bikes featuring both.
Longtails - These types of cargo bikes feature an extra-long wheelbase at the back with a built-in deck. The added deck is ideal for carrying additional cargo or children. Longtails offer many added features, including but not limited to, hooks for webbing and open-top panniers.
Let us be your first call when purchasing a cargo bike. We'll work with you during every step of the buying process to ensure you buy the best bike for your needs. We also specialize in adult tricycles.
Related Reading about Cargo Bikes
Tips for Being Seen While Riding a Cargo Bike and Adult Trike

When it comes to riding adult trikes or bikes, and even cargo bikes, safety is the main priority. Make sure you wear a helmet and know the rules of the road before heading out. It's essential to ensure that you're seen by others while on your bike.