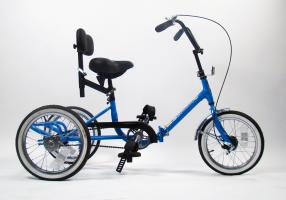 Simply put, tricycles are also made for adults. The best tricycles adults can get allow them to enjoy the open road with easy access, safety, and high levels of comfort. Who most benefits from a 3 wheeled bike?
Although sharing similarities with a child's trike, Tricycles for adults are an almost 1-to-1 alternative to riding a classic upright bike. Both riding styles offer the same health benefits: strength training, cardiovascular workouts, and a calming place for the mind.
Due to injury, age, and other issues, not everyone has an easy time riding a 2 wheeled bike. Many people struggle with riding because of getting on, balancing, and sitting upright. Those people do not have to quit riding: they can get the best adult tricycle. Three-wheel bikes are easier to get on than traditional bikes. Adult tricycles are a fantastic option for those struggling with riding a classic bike.
Tricycles for adults come in many different sizes and styles to meet different riding demands. The recumbent trike is super comfortable, making it a healthy option for long distances. This might not be the best option for short trips around town; instead, it's for the rider that goes 50+ miles in a single trip. Being comfortable allows one to conserve energy, which translates into longer rides.
Businesses benefit from cargo bikes, which often have three wheels. The third wheel's added balance makes them ideal for transporting gear around town all day. Cargo bikes are an excellent addition to local businesses that rely too much on cars and vans.
There are many other motives to get the best tricycle adults can find. They come in many different styles and sizes to meet everyone's needs.  
Related Reading about Adult Tricycle