When you invest in cargo bikes, you want to make sure you're securing them properly. The last thing you want to do is come back to the place you left it to find it's not there anymore. Properly locking up your cargo bike is the first step in security.
Below, let us go over the steps to take to lock your cargo bike properly.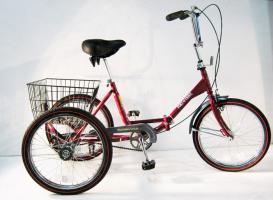 Location - If you're locking your bike up on a public street, choose a heavily trafficked area. A place with tons of foot traffic is less likely to see theft. There is not as much of a chance for a thief to walk off with your property unseen. Also, make sure it's locked on an immovable object.
Use Two Locks - Use a minimum of two locks when securing your cargo bike. Use thick locks that do not break easily. If bolt cutters can cut through the locks, they're not sufficient.
Front-Wheel and Frame - Lock the front wheel and frame to an immovable object. This is the bare minimum of security.
Back Wheel - If you can manage it, use a second hidden lock to secure the back wheel to the bike frame.
Detach Removable Objects - If you're carrying anything in your cargo bike, bring it with you when entering a store. Don't leave it on your bike as a thief can quickly swipe it. Some cargo bikes also have removable batteries.
Cargo Bikes
Whether it's an adult tricycle or cargo bike, security is vital. You'll want to make sure that your investment is properly locked up. Contact us for any questions you may have about adult trikes, cargo bikes, or more.
Related Reading about Cargo Bikes
Essential Bike and Trike Riding Accessories

Going to a bike shop looking for riding accessories can be overwhelming because of the number of options. What type of gear do you really need? When it comes to new riders, there are certain essential accessories that should be considered a necessary part of a bike or adult tricycle purchase. Even if you are getting cargo bikes, these accessories are necessary and worth the cash.