Commuting by bicycle or tricycle is one of the best ways to move around a crowded city. There are things riders can do to enhance their riding experience. For instance, there are many safety accessories on the market that can help to keep cyclists safe. Does your bike have lights in the front and back? What about reflective tape, a bell, or rearview mirrors? All this gear should be mounted on a bike for ease of commuting. Riders should also take some time before getting on the road to become familiar with the rule of the road. In major cities, like New York City, the Department of Transportation has been working on bicycle and tricycle safety initiatives. Familiarizing yourself with the DOT safety standards, and the laws enacted by the local NYC government, will help keep you, other vehicles, and pedestrians safe.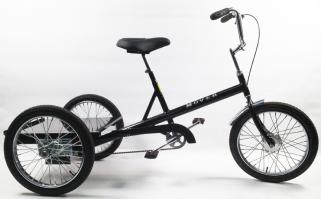 When it comes to riding in a city, there is one other thing that can be done to help make cycling safer and more pleasant. Most people who ride in the city can become overwhelmed on busy streets that have a lot of car and truck traffic. A rider should look for roads with designated bike lanes, and they should avoid streets and avenues that are not biker friendly.
How does someone find out which streets do an do not have bike lanes?
There are two options that many people find helpful. Most cities will publish a map of streets, avenues, pathways, and boulevards that have bike lanes. It is possible for riders to make out how they will get from place to place. Another option is to use Google Maps, which recently created a bike direction finder. When clicking the little bicycle on the Google Maps app, you are telling the system to find the safest and most convenient bike directions that follow streets with designated bike lanes.
Cargo Bikes
Regardless of the type of bike or trike bike you are riding, safety should be the number one concern of all riders. We sell a wide range of bikes and cargo bikes for all riding needs (both commercial and for personal use).
Related Reading:
Types of Cargo Bikes

The bike offers unique ways of doing business that would be rather difficult to do without. The postal service, milk and meat industry, as well as others used the first cargo bikes.