Many people turn to adult tricycles because they are easier and safer to ride than a traditional two-wheeled bicycle. Just because three-wheeled bikes are sturdier and comfortable to balance does not mean that they are safe. Do you know how to ride an adult tricycle safely? It is important to establish basic safety guidelines for safe riding on shared roads. Below, we will be highlighting a few of the essential safety tips for riding a tricycle.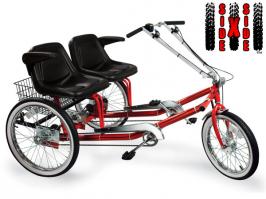 Pre-trip checklists ensure that you will be safe and have what you need on your ride. Make sure you have essential safety gear, like lights, reflectors, extra tire tubes, and an air pump. Three-wheeled bikes are larger than bicycles, and so they must be visible to riders in low-lights. When, and if, a tire pops, it is difficult to carry tricycles to a shop. Having the stuff to fix a flat can help you in a bind.
Do not forget your helmet when going for a ride. It is less likely to fall off an adult tricycle, but that does not mean it is not possible. Riders can be hit by things and then lose control of the trike. Protect your head while riding.
Make sure to watch behind you when riding. A three-wheeled trike is wider than a bike, and so there is the strong likelihood that other riders may try passing you. Being aware of your surroundings will prevent you from making a sudden and dangerous maneuver.
We have a full catalog of different adult tricycles for all types of riders. We even produce cargo bikes for business purposes as well.
Related Reading: