Many people think that the colder months signify the end of bike and trike riding. Most pack up their adult trikes and cargo bike for the winter, not to come out again until the snow begins to melt. Thankfully, the cold does not have to stop you from enjoying a ride on your bicycle or tricycle. Below we'll go over some practical tips that will keep you on your bike long after summer.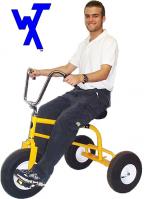 The first tip may seem obvious, but you'll want to stay warm when riding in the winter. Dress for the weather conditions. The majority of heat escapes through the head. Wear a balaclava mask under your helmet to keep in the heat. Layers are key. Go for a material that wicks moisture away from the skin. You'll want to ensure your warm but also comfortable.
Visibility is always important, but it's necessary for the winter. During the winter, drivers are not expecting to see a bike rider on the road so they may not be as alert. The hours of daylight are also shorter. Wear bright colors and use reflectors, even during the day.
Adjust your usual riding plan. You may find yourself getting tired quicker when riding in the cold. It's a good idea to plan a shorter route, especially your first few times out.
We specialize in all types of bikes, including tricycles for adults. If you're interested in trikes for adults during the winter, let us be your first call.
Related Reading about Cargo Bike