(Disc and Rim)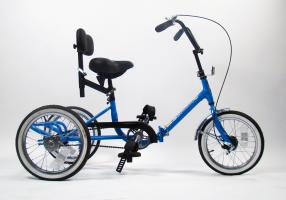 It is hard to say what the single most crucial part of a bike is, but brakes are one of the most important aspects—especially for urban riding. Bike brakes wear down with time, so even the top-of-line models eventually need repair or replacement. Many riders don't recognize the warning signs associated with failing brakes, but if they did, it could help them remain safer while on the road. How can you tell if your cargo bike brakes are going?
First, it is essential to know your brakes because each is different. The two main types are disc and rim. Although you'll be hard-pressed to find a rim brake on a Tour de France bike, you'll often find them on cargo bikes, adult tricycles, and city cruisers. Rim brakes are distinguishable by their treads. These treads are good indicators of whether you should replace brakes. You should consider replacing brakes if you notice:
No treads
Shallow treads
Uneven treads
Disc brakes have many benefits; many claim they are better than rim brakes. Different riding styles make different brakes appropriate, but for general riding, disc brakes are known to perform better and last longer. How do you know when to repair your disc brakes?
You can keep an eye and ear out for several signs to help determine the status of your disc brakes on your adult tricycle.
Do you hear squeaking coming from the brakes?
Do you notice a grinding sound?
Do you feel abrupt vibrations when you stop?
Are your brakes less responsive, meaning it takes longer to slow down?
When you look at your brake pads, do they seem thin?
When you are in the market for an adult tricycle for sale, you should find out what brakes the tricycle has and how they fit your riding needs. Be safe while riding!
Related Reading about Adult Tricycle