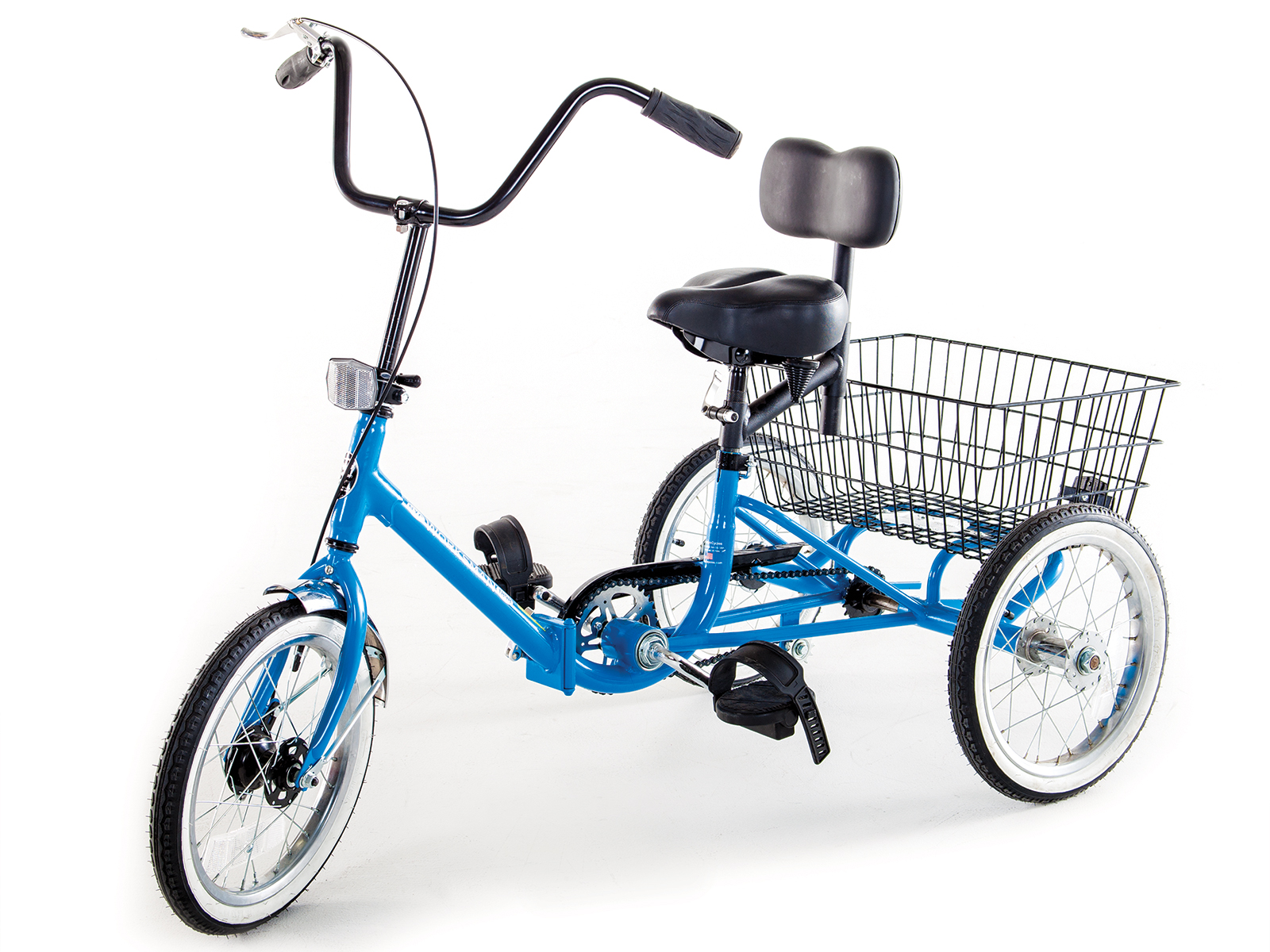 Cycling has long been cherished as a delightful means of transport and exercise, uniting enthusiasts of all ages. But what if the traditional two-wheel design doesn't fit your needs or preferences? That's where the three-wheel bike, or as it's often known, the adult tricycle, comes into play. Offering increased stability and unique design features, these 3 wheel bikes have carved out their niche in the cycling market. Whether for recreational fun, fitness, or therapeutic purposes, a 3 wheel bike provides an excellent alternative for those seeking a different cycling experience. One brand has stood out in this segment with a range of well-crafted and purpose-built cycles: Worksman.
WTX Wide Track Trike
The WTX Wide Tracker Tricycle is not your average tricycle. Instead of the traditional chain drive system, the pedals connect to the front wheel, similar to a child's trike. This design offers full control as the pedals turn constantly whenever the cycle moves. Additionally, its wheelbarrow-style wheels provide smooth comfort and remarkable stability.
Primary Uses:
Wacky Trikes: This refers to party rental industries using the vehicle as "party trikes." These trikes are often raced during corporate meetings or other social gatherings. Participants ride these tricycles in a fun competition that enhances team bonding.
Therapeutic Use: The WTX Wide Tracker Tricycle is not just about fun. Schools and hospitals utilize these tricycles for motion training and physical therapy, especially for special needs riders.
Port-o-Trike, Executive & Eagle Tricycles
Worksman Cycles has established a significant presence in the industrial cycle field. Yet, our reputation has expanded beyond that niche, making us leaders in adult recreational trikes. Our Port-O-Trike series is the best-selling Adult Tricycles in the USA. Our catalog includes the long-running Executive & Eagle lines and the newly available, highly specialized Carryall folding trike.
Side By Side Team Dual Tricycle and Tandem Tricycles
Worksman's innovative Side By Side Team Dual Tricycle redefines the tandem bike experience. Unlike traditional tandem bikes, the Team Dual Trike allows riders to sit next to each other, which fosters a more shared and interactive riding experience. With two independent transmissions and a split rear axle, each rider operates their own pedals, accommodating varying riding abilities and paces. These trikes are perfect for all riders, including those with physical challenges, stylish retirees, and even resort rental fleets.
Personal Activity Vehicle PAV Tricycle
The Personal Activity Vehicle (PAV3) is our ergonomic marvel! The PAV3 is designed to be the world's most comfortable trike. It blends contemporary style with proven classic features in a semi-recumbent design, making it perfect for fun rides and fitness routines.
PAV3 has a fully adjustable, generously padded high-back seat and optional fold-down armrests. Riding this tricycle is as comfortable as sitting on a couch. Moreover, its riding posture encourages the use of legs, back, and abdominal muscles together, mitigating stress on your hips and knees.
Optional upgrades include a three-speed coaster brake, rearview mirrors, a canopy top kit, and rear fenders. Its adjustability, comfort, and durability suit riders of all shapes and sizes. It has even found its way into many industrial settings for use in large factories.
Worksman Cycles continues to take pride in manufacturing their cycles in the USA, employing imported and domestic components in their new South Carolina factory. The WTX Wide Tracker Trike, Port-o-Trike, Executive & Eagle Tricycles, Side By Side Team Dual Tricycle, and Personal Activity Vehicle (PAV3) are the stars of Worksman Cycles' Adult Tricycle lineup. Whichever you choose, these tricycles promise to deliver a unique, enjoyable, and, if desired, therapeutic cycling experience.
Related Reading