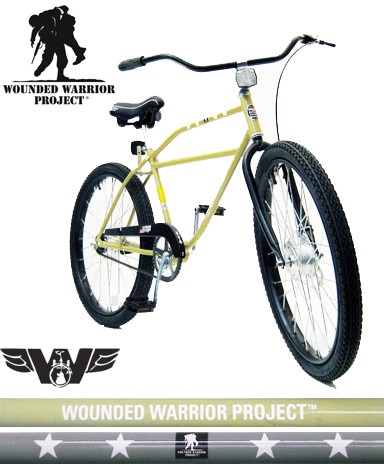 10% of purchase price (minimum $50) donated to the Wounded Warrior Project for every bicycle purchased.
The Worksman Cycles Special Edition Series Bicycles created to benefit the Wounded Warrior Project™. Made-in-America to honor our fighting heroes while financially aiding the extraordinary mission and programs of the Wounded Warrior Project.
You will be proud to know that 10% of the retail purchase price of every bicycle will be donated directly to the Wounded Warrior Project.
The Worksman Special Edition Bicycles are hand-crafted in Worksman Cycles' New York City manufacturing facility. Worksman Cycles is proud to be the "last man standing" in the U.S. bicycle manufacturing industry. Established in 1898 on the very footprint of the New York's World Trade Center, Worksman has never abandoned its city or its country. It is in this spirit that we proudly introduce this special series of bicycles to honor those, who through their extraordinary dedication and sacrifice, have allowed our company, and all of America, to carry on. As always, we thank you for your business as well as your support.